Robert Green inducted into Allen University's 2009 Hall of Fame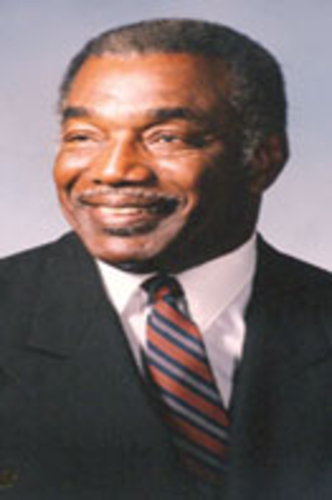 Posted By: Reggie Culpepper on December 10, 2009

Robert L. Green never ran track as a student attending Dunbar High School because the school did not have a track team. Green made up for lost time as a standout running back and member of the Allen University track team. He later ran the 100-yard dash in 9.3 seconds (wind aided), tying a world record in a track meet in San Antonio, Tex. Green also received offers to play in the National Football League (NFL) from the Green Bay Packers, Chicago Bears, and the Pittsburg Steelers before accepting a tryout with the world champion Cleveland Browns, who were coached by NFL Hall of Fame legend, Coach Paul Brown.

Green joined nine other inductees recently in the Allen University Class of 2009 Athletic Hall of Fame, which included: John H. Bates, Lawrence Chester, Otis Gray, Jr.(former Dillard High School star athlete/coach), Alberta Johnson, Ernest Jones, Berkley Murphy, Daniel W. Richardson, David Whaley, and Jefferson L. White.

Green was also honored by the South Carolina House of Representatives and the City of Columbia, S.C.





for his Hall of Fame induction.

Green distinguished himself early in his athletic career while at Dunbar High where he became known as "Pompey the Great" for his exploits as the team's star running back.

He continued leaving opposing players in the dust while at Allen University and quickly left no doubt after several practices that he possessed world class speed; so much so that he ran and finished second in the 100-yard dash to national champion Art Bragg of Morgan State in the Penn Relays, in 1952. He also was invited to the U. S. Olympic Trials in San Diego, Calif. Unfortunately he was unable to raise the funds to make the trip.

"There is no doubt in my mind that I could have made the team because they took the top six sprinters in the nation on the team. I know that there weren't six people in the country who had run faster than I had at the time," said Green.

Green also competed in track and played football for the United States Army, where he continued to distinguish him-self in both sports. During a track meet in San Antonio, he clocked a 9.3 seconds time in the 100-yard dash, which would have tied a world record in 1953, had it not been wind aided. He also played running back on the U S. Army Ft. Sills Oklahoma football team which defeated the Air Force, Representative from Washington, D.C. to capture the All-Armed Forces National Service Championship in 1953.

Green had a 35-year career in education as a teacher, coach, athletic director, and assistant administrator at Dillard High School in Fort Lauderdale, Fla.

Green currently chairs the Kappa Alpha Psi Foundation Scholarship Committee, serves on the Dillard High School Facilities Task Force, and founded the Panther's 100 Club. He lives in Fort Lauderdale with his wife Pauline Jackson Green. They have two daughters, Avis Green and Dr. Corliss Green Thornton, and two grandchildren, Maya and Myles.
If you enjoyed this article, Join HBCU CONNECT today for similar content and opportunities via email!